Serving Jacksonville, St. Johns County, Clay County and Duval County
Residential Tree Services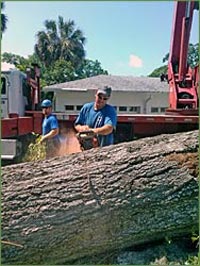 Your residential landscaping is a major investment in your home, and trees require regular maintenance to manage their integrity, health and beauty. Warming Tree Services, Inc. offers an array of residential tree services to help our residential customers maintain beautiful, healthy trees and shrubs. Our staff of experienced professionals and Certified Arborists are experts in diagnosing and treating problems to help protect your trees, shrubs and bushes, as well as your landscape investment.
Warming Tree Services, Inc. has a team of professionals working with a modern fleet of trucks, outfitted with all the latest support equipment, which enables us to complete every job safely and on-time!
Tree Trimming & Pruning
Tree Removal
Tree Structure Evaluation
Stump Grinding
Lightning Protection
Shrubs & Bushes
24 Hour Emergency Tree Service
Insect and Disease Management
Liability Reduction
Wind Loss Mitigation
Readiness Assessment
Response Planning
Storm Recovery

Request a Free Estimate & Consultation

Testimonial
Christine C.
"Warming Tree Service was a pleasure to work with from start to finish. They were on time for their estimate appt and they gave a written estimate with details and sketches of which trees were to be cut down. They called & confirmed the day prior to scheduled service day & were prompt the following morning to start work. They came out with several men & divided into two teams. Both teams were very meticulous & efficient every step of the way. I had a couple of challenging trees which they handled very well l, I believe because they were meticulous and calculating. The clean up was excellent. Really couldn't ask for more. Finally, the price was very competitive. I would definitely use them again.
Update 2018:
Used them again this spring for a smaller job and again they were prompt & thorough. They came back as promised to grind the stumps when weather was more permitting. Price again was very reasonable for a professional job. Thanks Warming!"